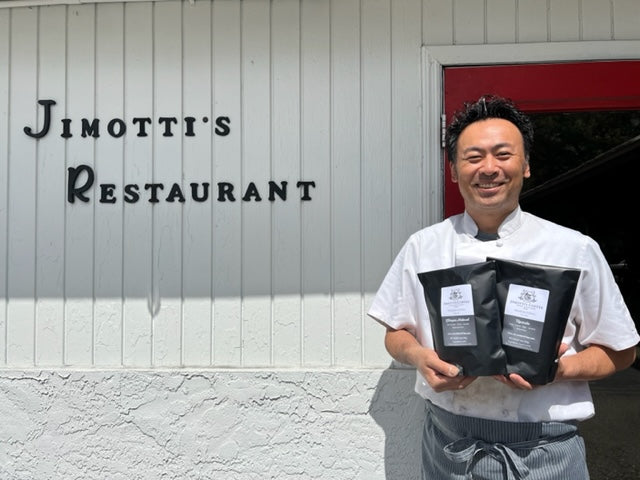 Chef Junichi
Chef Junichi Takazoe has a unique background when it comes to coffee. His commitment and skills to identify and pick the best of the best is what differentiates from other online coffee shops.
Jimotti's Mission
Hello everyone. I'd like to start with why I started a coffee shop online. I'm a big coffee lover but originally I wasn't planning to start a shop… until I had this cup of coffee. Like the morning cup of coffee you needed to get the day started.
I own a small Japanese restaurant in Florida as a head chef. I've explored and dealt with a lot of ingredients as a chef - from rare, expensive produce to ordinary local products.
However, I didn't care to look closer and learn more about coffee beans even though I considered myself as a big coffee lover. Coffee was some bitter drink that I consume while I am heading to work just to wake myself up even though I drink it every single morning. It was something that I just buy while I'm out grocery shopping, like at Costco. 
When I tasted drip coffee at a coffee bean store that imports beans and roast them on their own, my perspective on coffee has completely changed. I was fascinated by the smell and the freshness in aftertaste - The smell of coffee was so strong when I opened the package, but I didn't taste the bitterness of coffee after I finished the coffee.
Since then, I started to desire for people like me who are busy juggling between work and family life to explore and learn more about coffee. After years of exploring and experiencing different kinds of coffees, I've encountered a roasting company that can roast the coffee beans that I selected.
After numerous discussion between the roasting company and I, we've launched our original coffee - Jimotti's Coffee. I truly love our coffee and I hope you enjoy it too.
I am a Japanese chef. Japanese cuisine requires extensive skills and experience in working in the details. And it can be said the same to coffee.
Coffee isn't something you can just roast and drink. The best coffee is only possible when you can detect a slightest difference in taste and know how to make it better. It requires craftsmanship and years of experience. 
We poured our passion, skills and experience into our coffee beans. We're absolutely confident in our selection and skills. Our mission is for all of you to feel the joy I felt when I had "that coffee" and to spread the love for coffee. Our wish is for you to encounter the coffee that would change your perspectives and lifestyle.
Have a nice coffee day !!
Chef Junichi